NASA's HUNCH program ("High school students United with NASA to Create Hardware") was started in 2003 as a small program in which students designed and built training hardware for astronauts. Fourteen years later, the program has grown nationwide and this is the first year that students are building Single Stowage Lockers for actual space flight missions.
Typically NASA contracts are awarded to companies like Boeing or Lockheed, but in this case, work is completed by students through the HUNCH program endorsed by NASA. The students are considered NASA HUNCH contractors, which gives them an impressive start to their resumes.
In this specific program, the students are fabricating single stowage lockers that will be used to deliver payloads to the International Space Station. Fellow students involved with the program do the machining and building of the hardware that makes up the stowage locker. The first successful locker was delivered to the International Space Station via the SpaceX 10 Dragon cargo ship on Thursday, February 23
rd
, 2017. The students will continue to work throughout 2017 on delivering 15 additional lockers for the program.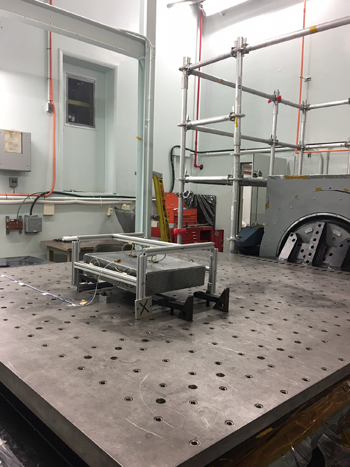 One of the teams from Glenelg High School in Maryland is designing a vibration isolation box which will isolate sensitive specimens that could become damaged during travel to the International Space Station. The Glenelg vibration isolation team consists of students Ethan Campbell, Austen Rohmann and Cameron Golway who have developed a box capable of achieving significant vibration isolation results. The three students sized and selected Enidine Compact Wire Rope isolators and mounted them in a way which balances the center of mass and provides sufficient isolation for the critical cargo inside.
The isolators have been placed in such a way to provide the same dynamic stiffness in every direction, which is typically a challenge for isolation systems of this kind. These Glenelg students have done an impressive job to maintain equal isolation in every direction for a stowage locker subjected to a hypergravity environment.
The next phase of the project is to test the performance of the vibration isolation box at the Goddard Space Flight Center, which is about 30 miles away in Maryland. Enidine wishes the team the best success as they progress through the design process, and we hope to see their design on future deliveries to the International Space Station.