Enidine is a main component supplier to the Pulp and Paper Industry, from the start of the paper making process to the finished goods, our products provide real world energy absorption capabilities to meet the needs of each unique situation.
Many of the machines within the process utilize some form of energy absorption and vibration isolation components; pulp and paper machines, roll storage equipment, roll automation and roll conveyors all have critical components vulnerable to high impact conditions. Enidine Adjustable and Non-Adjustable Shock Absorbers, Heavy Duty Series Shock Absorbers and Air Springs provide the best possible solution for these critical applications.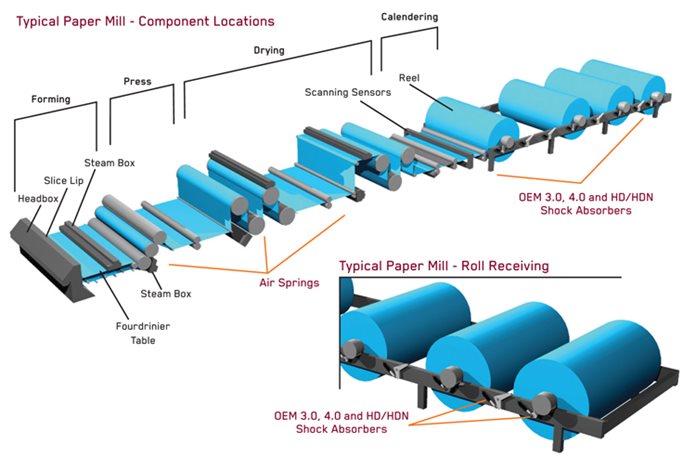 ---
Adjustable Series Shock Absorbers
Enidine Adjustable Hydraulic Series Shock Absorbers offer the most flexible solutions to energy absorption application requirements when input parameters vary or are not clearly defined. The Enidine OEMXT Series and Large Bore Series provides a low profile adjustment knob offered in imperial or metric thread configurations with stroke lengths of 1 to 6 inches. For drop-in competitive interchange. Low Range (LROEMXT) Series products are also available to control velocities as low as 3 in./sec. and propelling forces as high as 4,000 lbs. OEMXT and OEM Large Series shock absorbers are fully field repairable.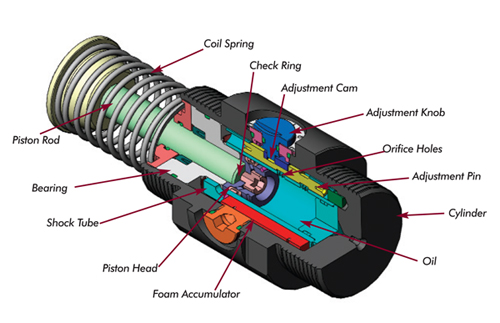 Learn More About Adjustable Series Shock Absorbers
---
Non-Adjustable Series Shock Absorbers
Enidine Non-Adjustable Hydraulic Series Shock Absorbers can accommodate varying energy conditions. This family of tamperproof shock absorbers provides consistent performance, cycle after cycle. Non-adjustable models are designed to absorb maximum energy within a compact envelope size.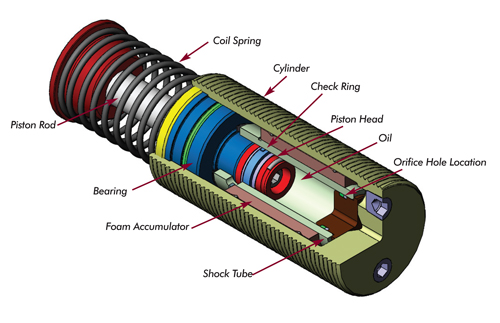 Learn More About Non-Adjustable Series Shock Absorbers
---
HD/HDN Series Shock Absorbers
Enidine Heavy Duty Series large-bore hydraulic shock absorbers protect equipment from large impacts. They are available in a wide variety of stroke lengths and damping characteristics to increase equipment life and meet stringent deceleration requirements.
HDN Series
Custom-orificed design accommodates specified damping requirements. Computer generated
output performance simulation is used to optimize the orifice configuration. Available in standard bore dimensions of up to 4 in. (100mm) and strokes over 60 in. (1524mm).
HDA Series
Adjustable units enable the user to modify shock absorber resistance to accommodate load velocity variations, with strokes up to 12in. (305mm). Standard adjustable configurations available.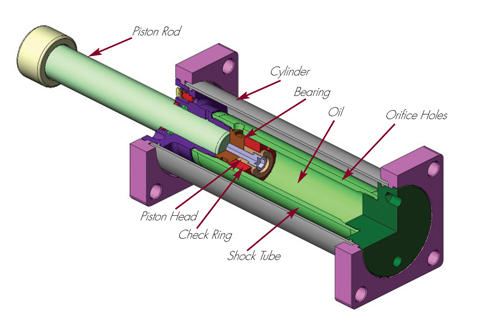 Learn More About HD/HDN Series Shock Absorbers
---
Air Springs
Air Springs are highly durable, precisely engineered and cost-effective for use in a wide variety of actuation and vibration isolation applications. With time-tested designs, fabric-reinforced neoprene or Natural Rubber flex member construction and corrosion-protected end retainers, air springs provide superior quality and performance.

As an actuator, air springs provide linear or angular motion. These air springs offer a favorable stroke-to-compressed-height ratio when compared to air cylinders, and can accept a wide variety of actuation media such as air, water, nitrogen or anti-freeze.
As an isolator, air springs are effective in reducing the harmful effects of vibration. They can
simultaneously isolate vibration and regulate load height, as well as allow for consistent vibration isolation under varying loads.