Pedestrian turnstile manufacturers utilize customized Enidine shock absorbers to dampen the rotational movement while operating in harsh, high cycle rate environments. Our shock absorbers provide smooth and consistent damping to prevent the bars of the turnstile from swinging too quickly or banging at the end of the rotation. Enidine small bore and mid-bore series shock absorbers are designed to meet the requirements of harsh environmental conditions with the ability to consistently perform over a long period of time delivering energy absorption to the turnstile mechanism.


During development of a wheelchair accessible variation of a turnstile it was discovered that the shock absorber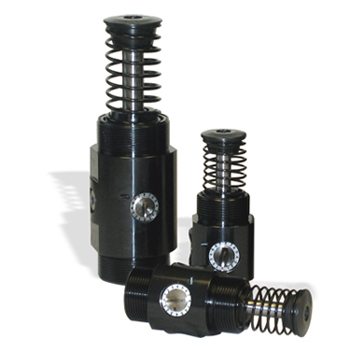 did not provide enough resistance to the increased mass and forces being applied during its operation. The gear train is common with the standard turnstile, so redesigning the unit for a larger type of shock absorber would be very costly and time consuming to the manufacturer.

Enidine designed a modified shock tube to handle the larger mass and drive force requirements. This allowed the use of the standard shock absorber body in the larger wheelchair accessible turnstile, while allowing the existing gear train to be utilized across both models and still achieving the desired performance required.
By designing a product with the same envelope size as the standard, off the shelf unit, the pedestrian turnstile manufacturer was able to save the time and cost associated with designing and building a second gear train mechanism for this turnstile unit, typically a lower volume product. Modifying a shock tube is standard practice on Enidine products, providing a significant savings to the customer for a modest investment.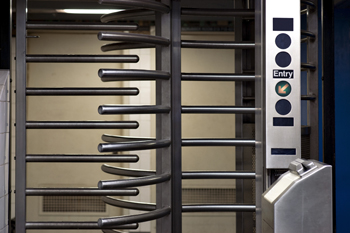 Our ability to work with customers to design and develop a modified standard to meet the application requirements is one of the ways that our engineering expertise can be leveraged to save the customer time and money. Our complete line of adjustable industrial shock absorbers offers manufacturers the ability to protect equipment and extend machine life, while maintaining or expanding output.