Enviornmentally Friendly Design
Why settle for less? When it comes to protecting your equipment from damaging energy forces we can provide you with the highest quality product at a competitive price that simply cannot be surpassed by the competition. When equipment uptime is critical, ECO series industrial shock absorbers from Enidine provide you the protection and long lasting performance you deserve, saving you time and money.

Enidine has revolutionized the industrial shock absorber market with the release of the industries first environmentally friendly design that stands up to the harsh environments provided by today's most critical applications.
The ECO Series was designed using materials and fluids that are safe for our global environment. Models have the flexibility to accommodate a wide range of operating conditions with varying masses or propelling forces and cover a variety of application parameters. Whether your application has a low velocity/high drive force or high velocity/low drive force condition, the New ECO Series will deliver the performance you come to expect.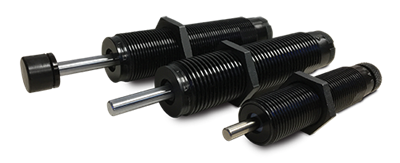 Ideal for Food and Beverage applications or other corrosive environments where product longevity is critical to machine life. Enidine's New ECO series industrial shock absorbers offer the best corrosion resistance package for the standard product range in the industry by enduring a 336 hour continuous salt spray test.
Added New Features for the ECO OEM Series
Environmentally friendly materials:- ROHS Compliant materials- Bio-degradable hydraulic oil- Copper-Free design- Recyclable packaging materials
Introducing our new Enicote II surface finish:- ROHS Compliant- Rated at 350 hours salt spray corrosion protection
Jam Nut includedwith every shock absorber.
Wrench flats promote ease of mounting
Capability to mount into pressure chambers
Integrated positive stopping capabilities up to 100 psi (7 bar).
The ECO Series non-adjustable industrial shock absorber product replaces legacy Enidine PRO and PM models.

Have a PM/PRO and need to interchange to the newest ECO Series model?